Dear FeedER Donors and Volunteers:
This past week, we expanded service to community clinics. We welcome Family Support Services, Tiburcio Vasquez Health Center, Ashland Community Clinic, and Silva Youth Clinic to our rotation.
At East Bay FeedER this week (April 19, 2020 - April 25, 2020) we've made 63 deliveries to 10 different hospitals and clinics, with a total of 2,635 meals served in the past 7 days. This is an increase of 20% in meals served and a 21% increase in the number of deliveries from the week prior. We have delivered a total of 7,644 meals over the course of the 4 weeks we've been in operation. YOU have enabled clinic and hospital workers to be fed 7,644 times--and helped local businesses to remain open.

Our community's battle against COVID-19 isn't likely to end soon--but your support speaks miles for both our restaurant workers and healthcare workers. One restaurant owner shared:
"We just opened six months ago and I felt like my dream and hard work was being flushed away. But when I saw people like you step in, I pulled myself together and started grinding. I just want to say thank you for your support and that you have been a light for us."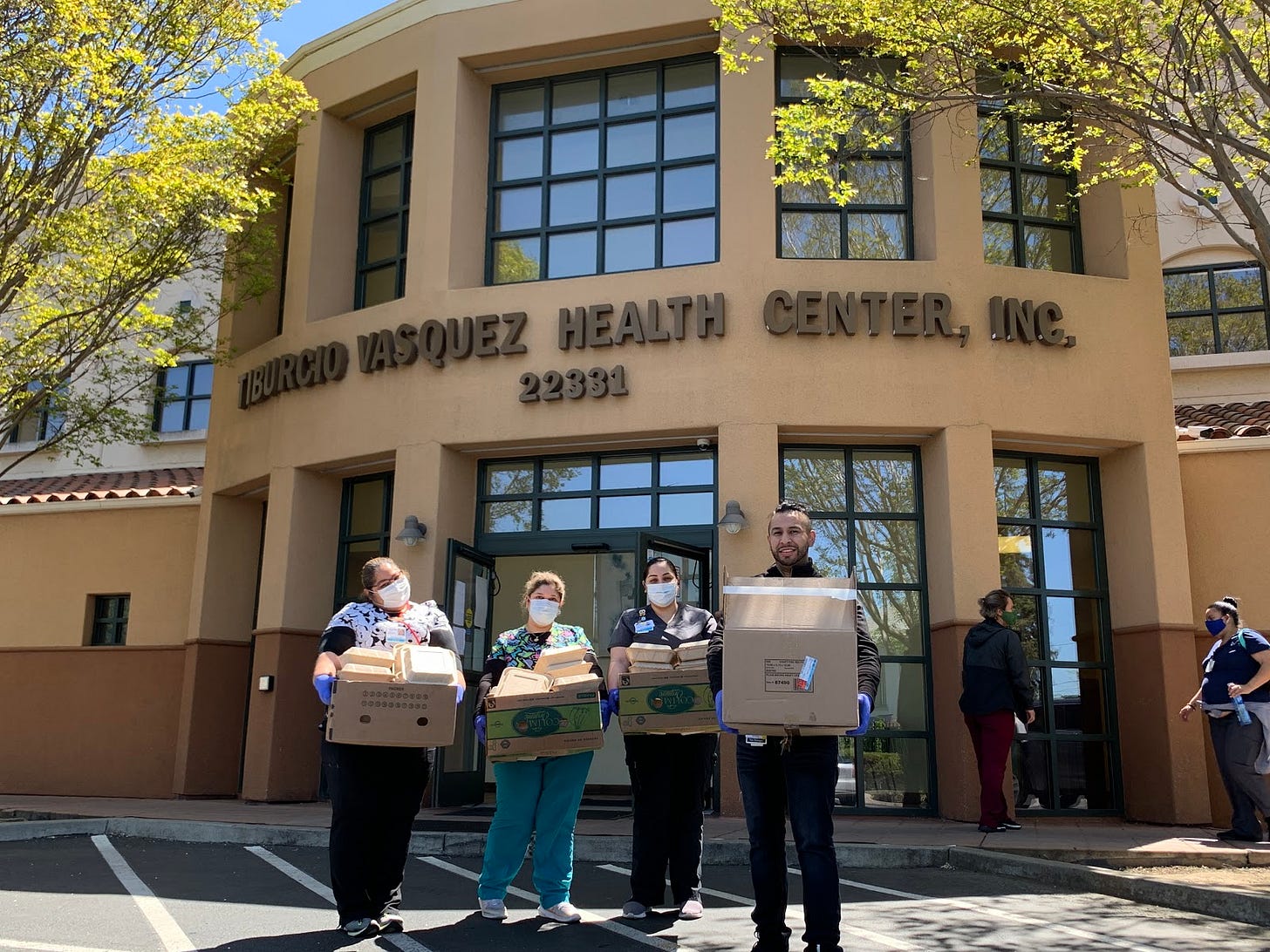 We want to thank the following restaurants for their participation this week:
The following ED and ICU locations benefited from your support this week:
Highland Hospital ED

Summit Hospital, Oakland

Summit / Alta Bates, Berkeley

Kaiser, Richmond (ED, HBS, and ICU)

Kaiser, Oakland (ED, HBS, and ICU)

Stanford Emery Medical Center

Tiburcio Vasquez Health Center

Family Support Services

Silva Youth Clinic

Ashland Community Clinic
Your donations and support have continued to psychically and physically nourish medical workers and sustain local businesses.
Many restaurants continue to struggle in the face of roadblocks. And we also thank our volunteer drivers from whom we hear inspiring stories. One of our drivers, Mikaela Dunitz, communicated:
"[A restaurant owner] said he had applied for a grant on the first day (and all the programs we've been hearing about on the news), but he didn't qualify for any of them. He employs 6 people it sounded like, so they were all very grateful. He loaded up the chicken tacos and mushroom tacos and oatmeal cookies. When we dropped them off at the Highland ER the two nurses who picked them up were also very grateful, saying, 'We LOVE being fed!'"
Thank you for your donations. Thank you for your love. Thank you for your support. Thank you for your community. Thank you for being a helper.
Stay safe and stay healthy and stay strong,
FeedER